PunctureX offers a high-performance, military-grade material solution that provides maximum protection from punctures. The material features a durable blend of polypropylene and Nylon fibers and is made based on Tex Tech's patented Core Matrix Technology™.
This unique process takes several layers of woven polypro material and combines them together in a Z-shaped pattern with staple-length Nylon fibers, effectively heat-setting and calendaring the material. This process improves the material strength and adds superior puncture resistance.
Military Design
The Berry Amendment requires fabric procured by the Department of Defense for military applications to be made in the United States. PunctureX was originally designed to meet the demands of a Globe Manufacturing contract for a Berry compliant material that could withstand stringent puncture requirements for military applications. However, the material performed so well that it gained popularity in other applications as well, such as:
PunctureX was incorporated into the U.S. military's new Army Combat Jungle Boot. While this design has not yet reached mass production for the military, the material is currently specified as the "PR layer" in the existing design.
The material's durable and self-sustaining properties compelled Globe to use it in their civilian fire boots as well.
The Canadian Standards Association (CSA) recently certified PunctureX for use in a range of specialty footwear sold into Canada.
Advantages of Using PunctureX
With its unique bonding technology and advanced puncture-resistant design, PunctureX is ideal for a range of military and other high-performance applications. The material has been approved for use as in blast panels and curtains, and there are also current studies being conducted to see if this material will be suitable for the fabrication of riot suits.
Some of the main advantages of this material include:
Unique woven design creates maximum flexibility
Lightweight (weighs between 74.5 and 82.0 oz per square yard)
Thermally non-conductive
Made in the USA, compliant with the Berry Amendment
Weighs up to 35% less than competitive materials
Meets ASTM Standards 2412 & 2413
Proven performance
In accordance with the ASTMF 2413-11 Standard Test Method, a series of tests were performed on the material by puncturing specimens that ranged between 199 mm and 204 mm thick. These tests included:
Three different specimens were punctured three different times with approximately 1,200 newtons of force. At the end of all three tests, there were no puncture marks found on any of the specimens.
Three different specimens were flexed one million times. After the tests were concluded, it was found that none of the specimens had delaminated, separated, or cracked.
PunctureX passed the ASTM 2412 Standard Test Method For Protection, with each of the samples inspected on two sides and in the center. The material also met the performance requirements for NFPA 1951, 1971, 1992, 1994, and 1999 standards for puncture resistance, in accordance with ASTM F2413.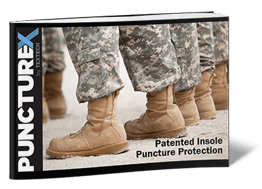 For more information about PunctureX, download our free data sheet. 
PunctureX from Tex Tech
PunctureX is a Tex-Tech exclusive product, carefully designed and fabricated as part of our effort to provide high-performance materials that keep users safe in military, law enforcement, and civilian applications.
To find out more about PunctureX and how it can improve safety in your operation, please don't hesitate to contact us.